While it's already expected that Apple will introduce new iPods at next week's iPhone media event, 9to5Mac shares new details on what to expect from Apple's new iPod lineup – including an all-new redesigned iPod touch (via MacRumors)!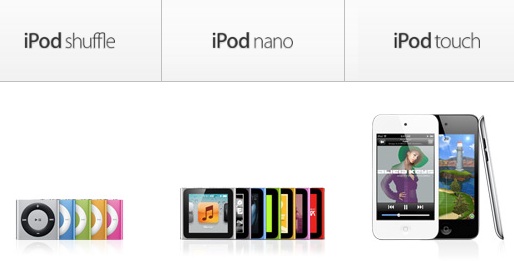 iPod Shuffle
9to5Mac's sources claim that the new iPod Shuffle will come in eight colors (compared to 5 current colors), feature only minor changes, and be sold for just $49.
 iPod nano
According to the report, the iPod nano is expected to get a major update. Like the Shuffle, the iPod nano is expected to come in eight colors (compared to the current 7). It also may only be available in a single capacity, where current models are available in both 8GB and 16GB versions. Pricing is also expected to be similar to current models.
Cases for a radically redesigned iPod nano have already begun to surface.
iPod touch
Last but not least, the report claims that the iPod touch will also see a significant redesign with a 4-inch screen similar to the new iPhone. Interesting, the report also suggests that Apple may keep t he current design around for the low-end iPod touch, while the higher-end models would get the new design.
9to5Mac also states that they've heard that new iPods will be introduced at $299 and $399 price points, which they speculate to be higher-end redesigned models.
While 9to5Mac ha a decent track record, it's always worth being skeptical about claims of major changes to Apple's products. That being said, we should find out for sure on September 12!