Our "modern day" society is filled with an abundance of entertainment methods; some people read, others watch television, some play lazer tag, and some exercise. This list goes on and on. Personally, one of my favorite ways to entertain myself is through music – and a quality speaker is essential for enjoying music without headphones.
There are a huge number of Bluetooth speakers available, many of which are excellent – but what they almost always lack is ruggedness. There aren't many speakers you could feel good about taking camping, or on a trip away from the city. That's where the Braven 625S comes in: A powerful, quality speaker that can handle what life throws at it!
 Design
The Braven 625S is a very compact, portable wireless speaker which can handle both multimedia and phone calls. In other words, it is a mix between computer speakers and a bluetooth headset, and has all the necessary controls for both music playback and handling calls. Best of all, it does this while maintaining as minimal a design as possible. Finally, the speaker also has a 35mm audio input jack and a micro-USB port which allows for charging.
One of the high points of the 625S is its design, which is both minimal and rugged. The device shares minimalistic design principles common to competing devices, such as the Jawbone Jambox, but it also comes with a ruggedized rubber coating to protect it from impact – a strong benefit for anyone that likes to take their music out into the rugged, dangerous world.
Adding to its role as an outdoors-ready device, the Braven 625s comes with a USB flashlight attachment, which plugs into the speaker to provide a bright source of light in a pinch. It also comes with a bright yellow dry bag which seals up to protect the speaker from water – even if you drop it into a river while rafting or some such.
Finally, the Braven 625s is very lightweight, coming in at just 12 ounces. This makes it easy to toss into a bag or pack, even when every ounce of weight matters. This, combined with it's high durability and shock absorption, make it an ideal speaker for any outdoorsman.
Performance
While aesthetics and physical design are important, the most important aspects of a speaker are how it performs – battery life, sound quality, and range are all crucial factors. Here are our observations on how well it actually works.
I tested the 625S out using a Macbook Pro, my iPhone, an iPad mini, and even an Android device I borrowed from a friend for an hour. It worked flawlessly over both Bluetooth and cable connections on all of these devices, and the sound quality was very impressive, especially for a device this small.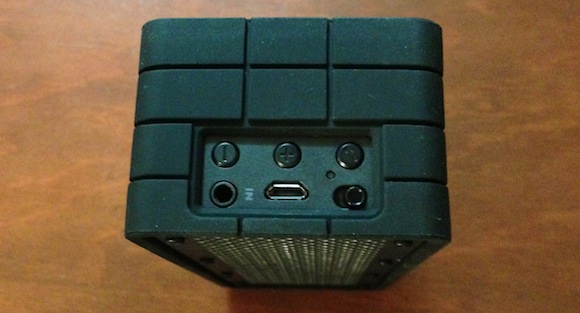 The 626S is capable of cranking out enough volume to fill a very large room. Make no mistake: the 625S is one loud little speaker, and it projects very well. I did find that the speaker ended up sounding slightly tinny at full volume – but at a modest mid-level setting, such as what most people would use it at in an average-sized room or office, the sound quality was more than acceptable.
The only area in which I was really disappointed with the 625S is the quality of its speakerphone function. Unfortunately, the 625S simply doesn't work well as a speakerphone. People I spoke with using the device consistently reported that my voice was quiet and tinny. I had to speak significantly louder than normal for the person on the other line to hear me clearly, and the sound quality still wasn't great. Fortunately, this is virtually the only significant disappointment I had with the device.
The 625S impressed me a great deal with its range performance. In my tests, audio did not break up or distort, and the device did not disconnect until I was well outside of reasonable hearing range with the device it was paired to. It's rare to see this sort of strong connection performance in a Bluetooth device. Braven definitely wins a gold star in this area.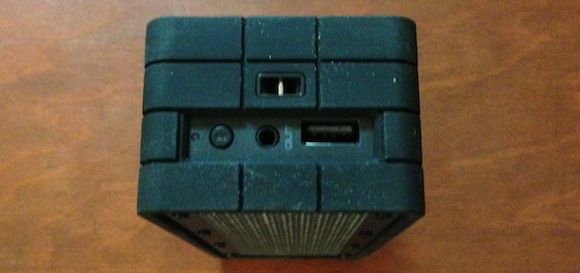 Braven claims that the 625S will last for up to 16 hours o specced at 16 hours of continuous playback. Their claim is spot on. In the course of testing the product, I ran about 16 and a half hours of audio through the device – and it was barely drained of life by the end of my testing. It really does get a solid 16 hours – and that gives it a significant advantage over the competition. 16 straight hours is the longset real-world battery life I've ever seen on a Bluetooth speaker.
Speaker
Features, Functionality, and Ease of Use
Aside from its handsome and rugged design, the Braven 625S also offers a very simple and friendly user experience, and packs a handful of unique features.
One of the beauties of Bluetooth speakers is that they are simple to set up and begin using, and the Braven 625S is certainly no different. Pairing the device is as simple as pushing the pairing button, navigating to the Bluetooth settings on your Mac or iOS device, and selecting it from the list. That's all there is to it! Using the device is equally simple.
The Braven 600 series speakers pack a very unique feature that I haven't seen on any previous device: The ability to charge other devices from built-in battery! In addition to the emergency flashlight module we referenced above, the built-in USB port on the 625S can also be used to charge another device, such as an iPhone or a Bluetooth headset (though not an iPad 3rd-gen, or iPad 4th-gen – these draw too much power).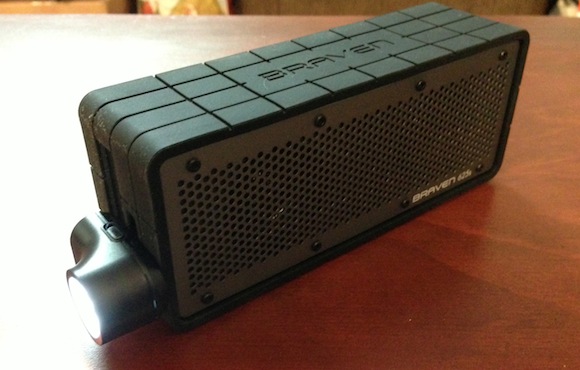 Aside from the ability to be used as a portable battery for charging other devices, the Braven 625S' USB port also lends on other very interesting and useful functionality: Daisy chaining! By linking multiple speakers together via USB, you can transform them into one much larger and more powerful speaker for when you want to crank out better (or at least louder) audio. I can see this being great for beach parties, presentation audio in large rooms, and more.
Verdict[rating:4]
The Braven 625S is a powerful speaker in a tiny package. It has great voice quality, a very impressive battery life, great Bluetooth range, and a pair of unique features that really make it stand out among the competition. Unfortunately, I was very disappointed with its speakerphone function. Considering that the speakerphone is one of the banner features of the 625S, Braven really let themselves down in that area.
All things considered, the Braven 625S is an exceptional all-around portable speaker, and its rugged build enables it to go places other speakers simply shouldn't go. Considering the overall great quality and performance (despite it's one significant weakness), I award the Braven 625S 4 out of 5 stars, and highly recommend it to anyone who isn't planning to depend on the speakerphone.
The Braven 625S is available now, and retails for $179.95 at a variety of online and physical retailers, including Amazon.com. For more information, visit Braven's product page on the web.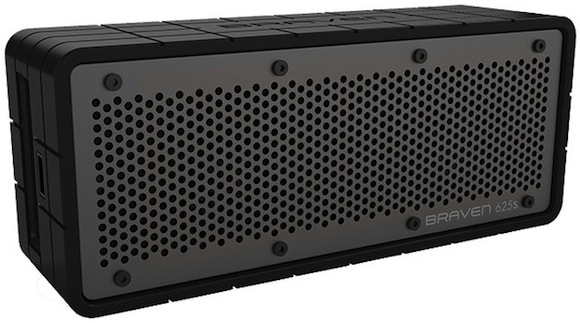 Pros
Very compact, lightweight, and durable
Rugged exterior makes it ideal for camping and outdoor use
Excellent overall audio quality
Daisy chaining and the ability to power other devices over USB are brilliant and unique features
Great Bluetooth range
Cons
Sound quality seems tinny at full volume
Speakerphone feature does not work well