In the ever-crowded printer market, it can be hard to distinguish between competing printers and choose the best one for your needs. In most cases, printers are a dime a dozen, and the entire printer market lacks innovation in some sense. Printers basically all do the same thing. Sure, there are different categories of printers – USB vs networked, multifunction vs standalone, business class vs. consumer class, and so forth – but within those categories, there isn't a whole lot to make one comparably-priced option stand out above the rest.
Brother looks to shake things up a bit with one of their latest printers, however: The Business Smart MFC-J4510DW, which offers advanced features at a value price, and brings some interesting innovation to a category that rarely sees such defining moves. We've talen the printer through it's paces to show you why we think Brother's latest Business Smart printer is a cut above the rest.
Design
At first glance, the MFC-J4510DW seems pretty ordinary – it looks like any other inkjet printer you might find at Best Buy. A closer look, however, reveals that Brother has done something really interesting with their product design – and it all starts with how it stores and feeds your paper.
Among the first things I noticed about the MFC-J4510DW is that it is remarkably compact. It's significantly wider and more rectangular than Brother's previous offerings (18.9 inches wide, 11.4 inches deep, and 7.3 inches tall) – and for a good reason. Instead of feeding paper vertically, the MFC-J4510DW feeds horizontally, allowing it to take a much more compact form. It also features an integrated USB cable rather than a bare USB connector on the back.
It's unique form factor also allows it to print on much larger paper sizes than most printers – it can print on paper up to tabloid-sized 11 by 17-inch sheets, which most midrange inkjets can't handle. That sets it apart from other printers right off the bat – and allows it to print a much wider variety of projects.
The design of the MFC-JW4510DW also departs from Brother's prior offerings in another important area: rather than being marred by exposed paper trays, the MFC-J4510 sports a slick modular design. with a foldout paper tray rather than a large, exposed drawer that sticks out from the unit. The tray also sticks out much less when open than most printer trays, due once again to the unique horizontal paper feeding used by the 4510. The tray also includes one other unique feature: a second folding plastic tray on top to collect finished prints. This eliminates the need for a separate collection tray, and helps Brother maintain the4510's compact design.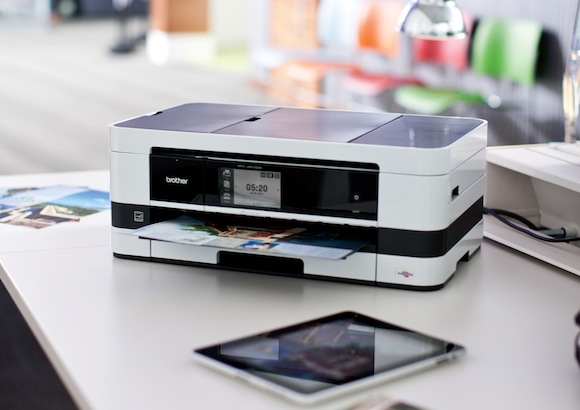 Another standout design feature of the 4510 is the large 3.7-inch touch screen display on the front. While many newer printers include a touchscreen, the MFC-JW4510 takes the concept to the next level by intelligently adjusting itself to the pressure of your finger. The days of forcefully poking at an unresponsive touch screen are lost on the 4510.
Brother also makes great use of the display by using it to replace physical buttons for faxing, copying, and so forth (this is one area where the pressure-sensitive screen makes a world of difference). This gives the device a much cleaner, simpler look than most competing printers. Finally, the screen also replaces the status lights you'll find on most printers. Instead, WiFi status, signal strength, network status, and printer errors are displayed directly on the screen.
These design  features don't come without cost, however. While the design of the MFC-J4510DW is ideal for a home office or a small business, the limited size of its paper tray and relatively small outbound collection tray make it much less practical for larger offices – although in Brother's defense, the 4510 isn't really intended for large office environments anyway.
Features
One of the MFC-J4510DW's best features is its large 3.7-inch pressure-sensitive touchscreen, which allows you to interact with all of the printer's features in much the same way you might interact with a smartphone – everything is simple, intuitive, and touch-based, which makes using the printer an absolute piece of cake. The design of the printer's software interface is also appealing – the various options and settings are all presented in a logical, intuitive order.
Brother's Business Smart series of MFC printers include a number of ways to connect (including over ethernet), but one of the strengths of the MFC-J4510 is the variety of ways it allows users to print wirelessly. Unlike most of Brother's previous printers, the Business Smart series includes AirPrint compatibility for printing from and iPhone or iPad, as well as WiFi direct.  The printer also features great cloud connectivity, allowing you to access photos and documents stored in the printer (or on a USB drive connected to the printer) from Facebook, Evernote, Dropbox, Google Docs, and other sites.
Adding to its appeal, the MFC-JW4510 also includes automatic duplexing for printing on both sides of the page, and features a large 20-sheet document feeder for automatically scanning larger documents or stacks of media. It also includes duplex scanning, allowing you to capture both sides of a document without intervention. Unfortunately. however, the automatic document feeder does NOT allow duplexing, which can be problematic when scanning larger documents.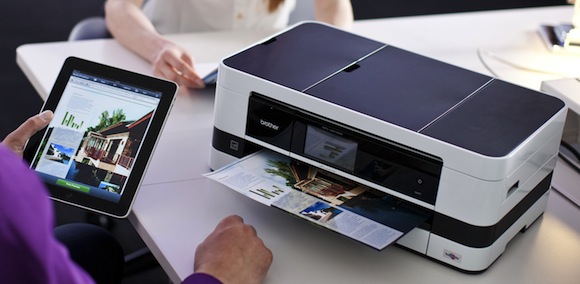 Another feature that I came to really appreciate is one called Secure Print, which waits for you to physically reach the printer before spitting out your document. That's a nice touch for those concerned about privacy, or who print confidential documents.
Performance
Aside from its impressive design, the MFC-J4510DW also features very acceptable print speeds – around 13ppm on average for full-page text documents at middle quality. As expected, the printer isn't quite as speedy for photos and images. 4×6 photos printed at around 4 ppm using standard settings on plain paper, and 2ppm on glossy paper. Printing a full-size 8×10 photo took around 40 seconds. Scan speeds are as fast as I've seen on an MFC, at about 3 ppm.
It's worth noting that while the MFC-J4510DW is absolutely fantastic for text documents, producing very sharp, clear text, it doesn't perform as well with images. I found that most images printed in an acceptable way – but photos appeared slightly washed out, although using higher quality settings can help compensate for this. Even at the highest quality settings, however, photos didn't appear as vivid as I expected.
Considering the printer's sub-$200 price range, however, and the fact that it isn't designed as a photo printer, I found its overall performance to be very satisfying – and at least on par with other similarly-priced printers I have tried in the past. The practical upshot is that while this printer will work well for business purposes, it's not a good choice for printing home photos or creative projects in most cases.
It's also worth noting that the MFC-J4510DW is perhaps the quietest inkjet I've ever used. Definite bonus points there.
Value
Aside from its features and overall performance, one area in which the MFC-J4510DW really shines is in terms of value. Aside from its affordable $199 retail price (commonly available for $150 or less), the MFC-JW4510DW is also very affordable in terms of ink costs. Cartridges come in two capacities – a 600-page capacity, and a 1200-page capacity. Using the smaller cartridge, you can print at a cost of around 4.2 cents per page in color, and about 2.5 cents per page in black – and the larger cartridges are even more affordable. It's among the most affordable ink cartridge systems I have seen.
The impressive array of features you get for its sub-$200 price range is also extremely impressive – AirPrint, duplexing, and cloud interactivity are especially welcome at this price point. The ability to print tabloid-sized paper using a printer with such a low price point is especially impressive – and something which gives the MFC-JW4510DW a serious edge over the competition.
Verdict[rating:4.5]
Considering the MFC-J4510's performance, print speed, cost per page, features, and retail cost of $199, I find it to be an exceptional value for the money – and a fantastic all-around printer for any home business or small office setting. The Brother MFC-J4510DW sports a great design that takes up significantly less space than many other competing printers, and looks great while doing it.
So what does the MFC-JW4510DW offer that makes it so unique? Everything. From design, to features, to the competitive price point, Brother's newest Business Smart printer is a force to be reckoned with – and after spending a few weeks with it, I  highly recommend it to anyone looking for a great all-around printer – as long as they don't plan on printing a lot of photos.
The Brother Business Smart MFC-JW4510DW retails for $199, and is available now for as low as $149.99 at Best Buy. For more information, visit Brother's product page on the web.
 Pros
Compact, modern design.
Able to print up to 11×17-inch tabloid-size documents.
Very affordable ink.
Quiet printing.
AirPrint and cloud connectivity.
Loads of features, and an above-average value for the price.
 Cons
Image quality isn't quite as good as I would have liked.
No duplex scanning when using the automatic document feeder.