Sharing apps have come a long way on iOS. As for most of these social apps, you can share photos, with a few offering video sharing features. Of course, you can always share videos through Facebook, Twitter, Youtube, etc., but if you're looking for something more in-depth or for some specific category of videos, Future Services LLC has just what you're looking for. With ClipClock (Free, App Store Link) you can view videos shared by friends through Facebook or view videos by interests shared by any other user.
Overview
As soon as you launch ClipClock, you need to log into Facebook. There's no way around it, so basically if you don't have a Facebook account, you're locked out of the app. Once you login you're greeted with three columns of videos that ClipClock users and your Facebook friends have shared over Facebook. If you're familiar with the layout of other apps such as Pinterest, ClipClock has a pretty similar layout. It seems to be a more popular choice recently that many developers have implemented especially in social network apps.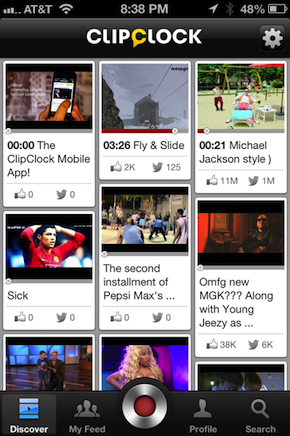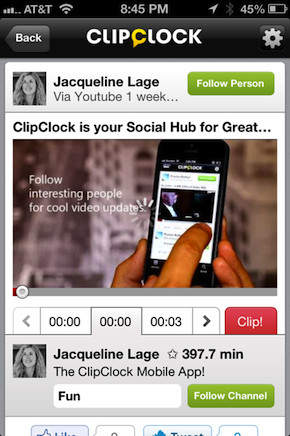 Features
By default, all interests are selected, but you can select certain ones by tapping the 'settings' button on the top right of the screen, Interests you select will only show up on the list in the 'Discover' tab. The problem with this is that if you only pick a specific category, some of the interests don't load, like Art or Nature. I'm sure plenty of users share art or nature related videos, but for whatever reason ClipClock just decides not to load these interests.
Some of these categories don't even work on ClipClock.com, which may be why they don't even load on the app. This is probably something they should have looked into before they even launched the app. On the site, there's an indication that the certain interest can't load, but on the app, there's no message that a category you chose didn't load. Under the list of interests, there is no 'select all' button like on the site.
This is something that obviously should have been included. The first time you launch the app, all the interests are selected by default. It's not much of an issue, but when it's on the site, why leave it out on the app. To the right of that is 'my feed' tab. With this, you can browse through all your Facebook friends' videos that they shared. I really don't see myself using this too often when I can just go straight to Facebook and see the videos my friends share there.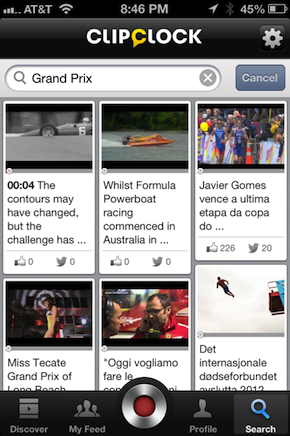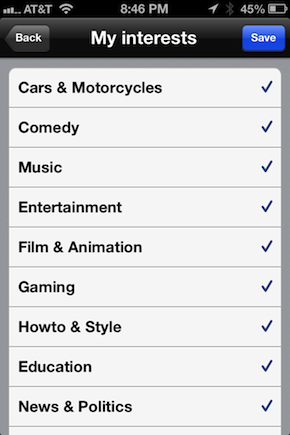 In the middle of the app is a big 'record' button. You either have the choice to record a video and share it or choose a video from your library. It's pretty basic as far as recording goes. You're better off recording in another app then just sharing from ClipClock. The app also features a profile for yourself with your followers, who you're following, and your uploads. It uses your Facebook photo as your profile picture, which you can't seem to change from ClipClock. You can also search for videos. I tried using pretty general words in the search tool, but only 10 or so videos would show. Furthermore, most of the videos would not even be related to what I'm searching for.
Verdict
Overall, ClipClock is a pretty useful app that brings some neat ideas to the table. It has its drawbacks and it stalls in some areas. Once in a while it would hang up or crash if you're switching from different tabs. One thing I noticed about some of the videos was I wasn't able to view them in landscape mode or even in portrait mode with just the video showing.
Most of the time it would play with just the info and the user's profile who uploaded it. Since ClipClock is a pretty new application, it doesn't seem like there are enough users to populate it with a lot of content and videos. Nonetheless, it looks like a pretty promising entertainment app, which will hopefully catch on as more people view it as a Pinterest for videos and notice the resemblance in the UI.
Price: Free, App Store Link
Rating: 2.5/5[rating:2.5]
Pros: 
Great interface
18 different interests to choose from
Cons:
Search function doesn't work properly
Not able to view some videos in landscape
Some interests don't show any videos