If you were ever a fan of Breakout by Atari, Magic Orbz is your iOS modern heaven. If you aren't old enough to even know what Breakout is, that is no matter, Magic Orbz is your new favorite block breaking game. Yes, I've decided. HeroCraft, Ltd. is taking the block breaking theme to new levels, as they ported the PS3 smash DLC to your iOS device and I cannot be more enthused.
Gameplay
At it's core, Magic Orbz is a simple upgrade from an age-old game genre. The playing field is populated with breakable items and the player uses a paddle to bounce a ball back and forth, destroying the items in the field. Magic Orbz takes it to the next level with power ups, changing boards, 3D destroyable environments, pirates, and sharks.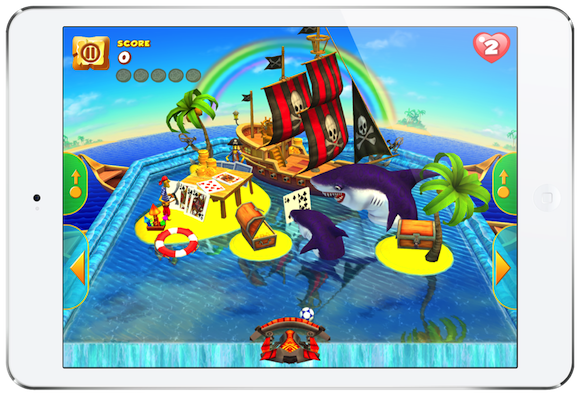 Overall, the gameplay is smooth and fluid with enough changing scenery to keep me busy for at least 30 minutes at a time. I actually regretted putting the game down to write this review. As you bounce a soccer ball around the playable field, destroying baddies, blowing up fireworks, and setting off cannons, don't forget to collect coins, extra lives, and numerous upgrades, including weapons.
The paddle, or "bat," can be upgraded with in-game weapons or power ups/downs. As the ball bounces around, it will activate falling upgrade orbs to be collected by running the bat into them. My favorite is the 3-ball upgrade that splits the ball into three total balls, destroying everything 3-times more quickly. Well, maybe it is commanding a meteor shower to sink a boat, or maybe the gatling gun addition.
Either way, the game is fluid and never snags or hangs. The music is tolerable and the sound effects appropriate. Controlling the bat can be done two ways, one, by swiping it with your finger, two, using the paddle buttons located on either side of the screen. It is a well balanced addition to the app store.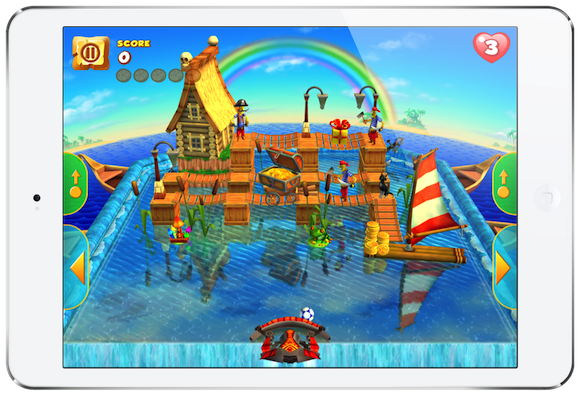 Conclusion [rating: 4.5/5]
Overall, Magic Orbz is a dream on my iPad mini and well worth the $1.99 for the universal app. I've picked it up to play several times today and when I'm done writing this review, you can bet I'll be picking it up again. It is an excellent port from the PS3 and I really like it. There is only  a handful of games I would give such a raving review about and I'm happy Magic Orbz has joined the ranks. Call me a simpleton, but I feel like quick play games that you just pick up and play are the perfect iOS games. You will never find me playing Modern Combat, but you will certainly catch me sneaking a Magic Orbz session every-now-and-again. Seriously, buy this game.
Pros:
Quickly learnable
Familiar gameplay with enhanced 3D graphics
Upgrades!
Easily addicting
Cons:
I really want all universal apps to sync level complete with iCloud and this game doesn't, which is keeping it from a full 5 stars.