I live in Phoenix, AZ. Some see that as miles of endless desert, but anyone who lives here, knows there is also endless beauty in the area. But how do I find the best spots to take photos? Where can I find the most intriguing landmarks and natural beauty? Enter Pashadelic.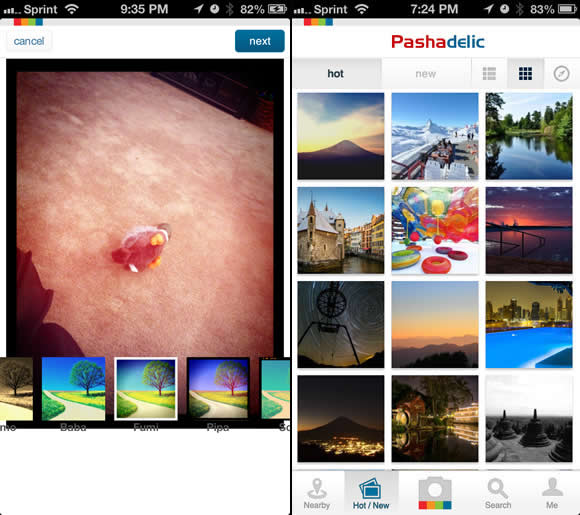 Overview
Some say Pashadelic is a Instagram competitor. True, both rely on a strong social element, and connect to Facebook, and allow sharing and favoriting of photos, but Pashadelic goes in another direction after all that.
After starting up the app you'll be asked to setup a login either using your email address or your Facebook account. After a quick setup, you're ready to start exploring the area via photos taken by other users.
You can view the photos through various ways, such as "near", which are photos taken near your current location, by entering a location, (yup, some beautiful photos of Sedona), "hot", which seems to be the most popular photos of the moment, and "new", which explains itself.
After you select a collection to view, you can navigate thru each screen in the normal iOS manner, swipes and taps allow you to work your way through an album. While viewing a photo, you can tap the "gear" in the upper right hand corner of the screen and view EXIF-info, (Date, Camera, Shutter Speed, Aperture, etc.), the info screen also allows you to report an inappropriate photo. (Just in case someone is display the wrong kinds of hills and valleys to the community.)
The photo viewing screen also allows you to view comments others have left about the photo, how many "likes" it's received, and how many "wanna go" votes it has. "Wanna go" is the button you tap if you want to visit that location some day. By tapping it, you'll save the photo and location to your profile, where you can revisit it any time you wish. (When visiting a "wanna go" location, the app will happily bring up Google Maps (browser version) to give you directions on how to get there.)
The app also allows you to do the standard "sharing" functions that are common in any social app today.
As well as viewing photos from other users, the app of course allows you to take photos of your surroundings and share it and the pertinent location aware information with the community. As well as location information, you can also enter a description for your photo.
The photo taking interface is clean and clutter free. I did experience a few quirks with the camera function. A few times the the "shutter" refuse to open on the camera screen, and did not allow me to take a photo. A quick tap of the close button on the screen, and another quick tap of the camera icon cleared whatever problem there was and allowed me to take the photo. Could be frustrating if you wanted to take a once in a lifetime shot.
After taking the photo, you can use various effects and filters to change the look of your photo, Then the app takes you to the information screen where you can enter info about your subject, and choose whether or not to share it on your Facebook page.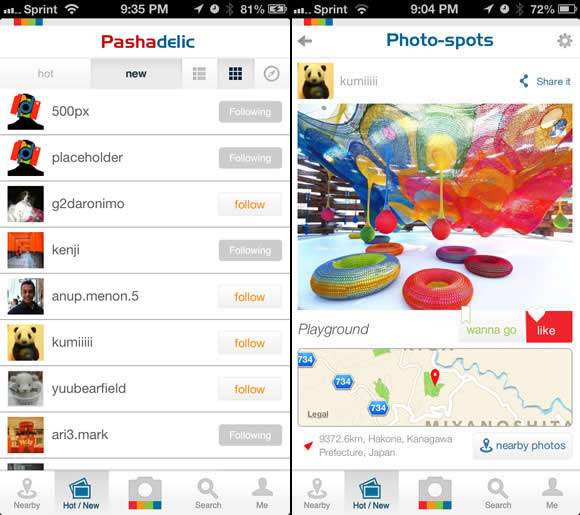 Verdict
I found Pashadelic easy to use, and I like the idea behind it. Using an app like this could be a fun way to explore areas around you wherever you may be. The "wanna go" feature could lead to some interesting spur of the moment trips, or could even help you plan that "trip of a lifetime" we all dream of.
While it was easy to use, the interface has some rough edges, and could use some polishing. I also experienced the aforementioned camera bug, and a few times after taking a photo and sharing, all that showed in my album was a gray box. A few hours later that cleared up, and the photo was displayed.
If you love photography, and love exploring new areas to find exciting spots to take your photos, try Pashadelic. It's free, which is always a great price, and the app has a lot of potential. I'm looking forward to seeing what future versions of the app will bring to the camera bag.
Rating:3.5/5[rating:3.5]
Price: FREE – Available for the iPhone in the App Store (DIRECT LINK)
Pros:
Great concept. Exploring the area, and knowing where to take great shots via a social app such as this is a great idea!
Easy to use, the camera interface is uncluttered, the included filters are great, and the sharing function provides some great info to users.
The "near" function is a great idea. I plan on using it when exploring my area.
Uses the taller screen of the iPhone 5. Thank you!
Cons:
The interface needs polishing.
The camera problems need to be addressed. But I have experienced similar issues in other apps.