Apple on Thursday released a new version of TestFlight for iOS. The new version of the app, (version1.3.2), now offers support for iOS 9.3 and watchOS 2.2 apps, both of which are currently in beta testing.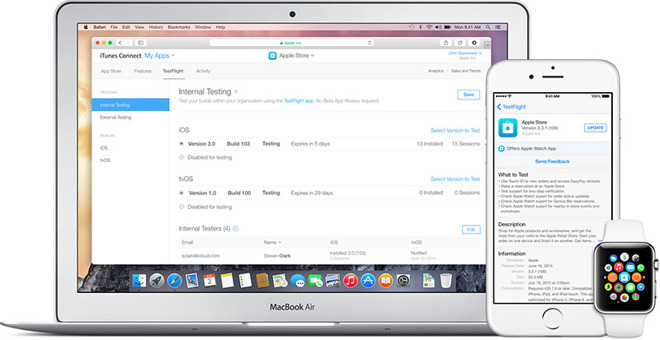 What's New in Version 1.3.2

Includes support for watchOS 2.2 and iOS 9.3, as well as minor stability and performance improvements.
TestFlight allows users to test pre-release software on iOS, watchOS, and tvOS devices. Testers must be invited to a beta test by the app's developer. Once invited, testers can redeem invitations in TestFlight to install, test, send valuable feedback, and get updates for the beta app.
November saw Apple double the number of testers developers can invite to a beta test, doubling the number of available slots to 2,000. It also doubled the maximum length of a beta testing period to 60 days.
iOS 9.3 is available to both developers and public beta testers, while watchOS 2.2 is still a developer-only release. Apple is expected to announce the release of both operating systems to the public at their rumored March 15 press event.
TestFlight 1.3.2 is free, and is available in the iOS app Store. [GET IT HERE]