A recent survey of U.S. broadband households who recently purchased a streaming media player shows that while Apple's release of their fourth-generation set top box has helped sales, they still have an uphill battle against competitors, like first-place Roku.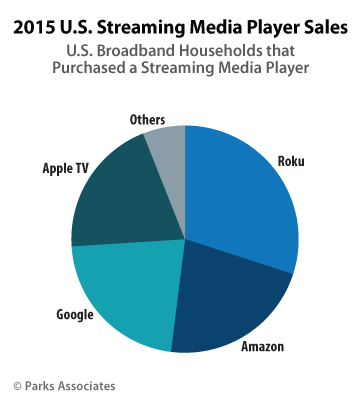 Data released by Parks Associates , published on Tuesday, shows that while Roku sits in first place with 30% of the streaming media player market, no one device has a massive share of the market. The numbers were for the one-year period covering Q1 2015 to Q1 2016.
The Apple TV, which was revamped in fall 2015, came in fourth place, with 20% of sales. Google's Chromecast and Amazon's Fire TV Stick tied for second place, with 22% each.
Price seemed to be a determining factor in sales, as low-cost streaming "sticks" such as the Chromecast and Fire TV Stick, accounted for around half of all streaming devices sold in 2015. Park Associates found that streaming sticks accounted for three-quarters of Amazon's sales and one-third of Roku's.
Apple's release of the fourth-generation Apple TV, which offers an App Store, and greatly improved specs over the third-generation, gave the device a boost in marketshare, as its share of sales in 2015 was 50% higher than in 2014.
The fourth-generation Apple TV has a starting price of $149 for 32GB of storage, while a 64GB goes for $199. It should be noted the new Apple TV was released late in 2015, so it likely will have a larger impact in the 2016 numbers.