While observers were excited and intrigued by the new wireless AirPod headphones announced by Apple last week, many wondered aloud how long it would take to lose one of the earpods, as they are individual units, not connected by a cord, as most Bluetooth earpod duos are.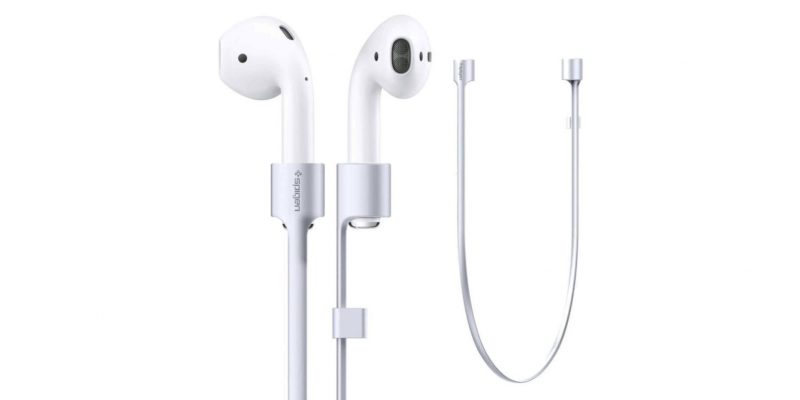 California-based accessory company Spigen says they've come up with a solution, making sure your new AirPods remain a two-piece matched set. Their AirPods Strap is now available for pre-order from Amazon.
Compact, lightweight, and extremely durable. (Spigen AirPods Strap is currently patent pending) Perfect compatibility for your iPhone 7 or iPhone 7 Plus Air Pods. Connect directly from one ear piece to the other.

Designed for all users – Ideal to never lose your Apple AirPods. Keep it in place around your neck, in your pocket, or anywhere you can hang a strap.
The cord attachment snaps onto the bottom of each AirPod's "arm," staying out of the way of the units' built-in microphones, and also not impeding the fit of the AirPods into the user's ear.
Sure, it seems a bit odd to add a cord back onto a set of earpods that are specifically designed to be cordless, but the accessory should be of great utility to runners and other exercise fans who don't have room to carry around the AirPods in their battery case, and can instead hang them around their neck when not in use. Also, there's the whole, "not losing one of my expensive-assed AirPods," thing to be considered here.
For more information about the Spigen AirPods Strap, visit the Spigen website. To purchase a strap for $9.99, including free shipping), visit Amazon.