Both the recently released iOS 10 and soon to be released macOS Sierra operating systems offer the ability for users to pay for website purchases via Apple Pay and Touch ID. Support for Apple's contactless payments system is now beginning to appear at various sites around the web.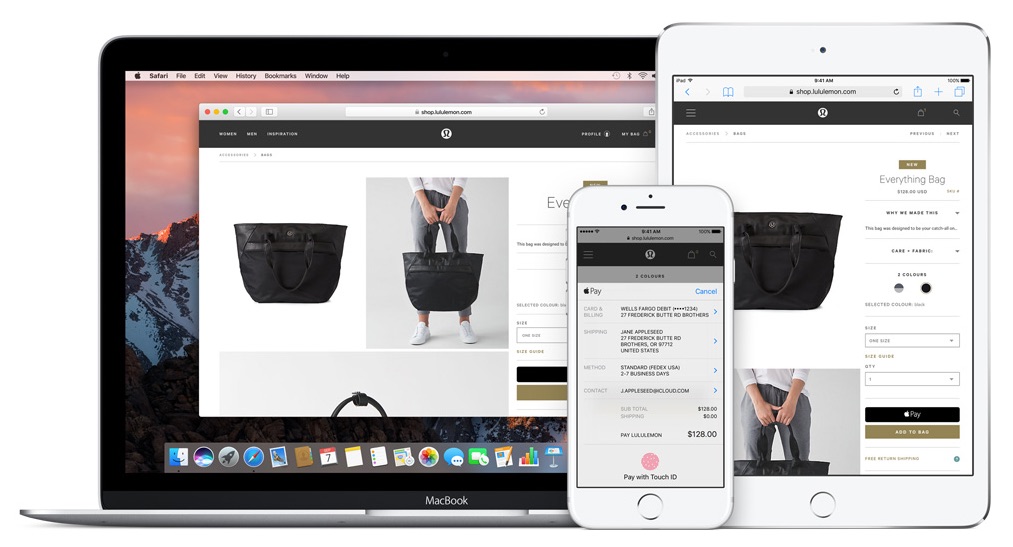 Time inc. has announced that customers will now be able to purchase subscription for its line of magazines, including Sports Illustrated, People, Real Simple and more, using Apple Pay. Wayfair announced support for the payments solution last week, allowing customers to use the service to make payments for furniture and other things to fill your house with.
In addition to frontline retailers offering support, backend payment services, including Big Commerce, Shopify. and Strip have all announced support for Apple Pay on the web, allowing smaller merchants to accept the payments solution for customer purchases.
A spokesperson for website provider Squarespace told us this afternoon that they too will be offering Apple's payments solution to their customers who use Stripe payments processing for their merchant sites.
With in-store mobile payment volume estimated to reach $75 billion by year's end and $503 billion by 2020, Squarespace is excited to bring our eCommerce capabilities into the future. The integration with Apple Pay lets shoppers instantly purchase on the go using their payment and shipping information saved in Apple Pay. This allows for a more seamless checkout experience, helping Squarespace merchants drive sales and grow their business.

To prepare this exciting new feature for launch, Squarespace has been working with a number of customers around the world, including Public Supply, tokyobike (in both New York and Australia), Apotheke, and Fern, to make the Apple Pay experience as effortless as possible.
The number of websites rolling out Apple Pay to their customers should continue to increase, as the service continues to gain popularity among iPhone, iPad, and Apple Watch users. The release of macOS Sierra to the general public, scheduled for next week, should also contribute to the solution's  on-web growth and popularity.
(Via MacRumors)