The new flagship Chicago Apple store, located alongside the Chicago River, will boast a feature Apple hadn't shared in the original plans. It appears the structure's fiber roof will sport a white Apple logo, making it look like a MacBook with its lid closed.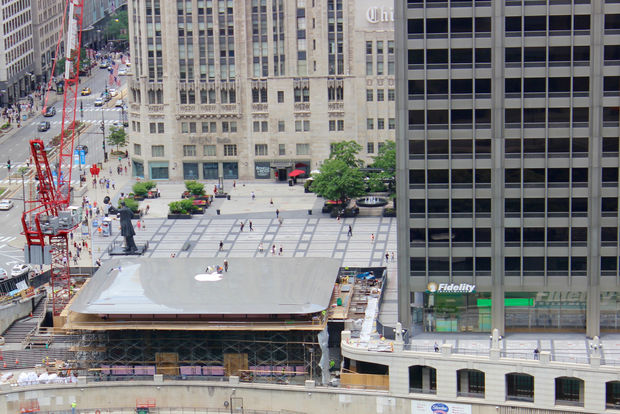 Chicago news site DNAinfo, shared photos of the upcoming store's roof on Thursday. The roof is a rectangular shape, with rounded edges, and is made form a material resembling that of the MacBook/MacBook Pro lineup. The roof will sit atop all-glass walls, making for an unusual look when it's all finished.
The new retail location, which is near the historic Michigan Avenue Bridge, was designed by the architect firm of Foster+Partners, who has partnered with Apple over the years, designing their iconic retail stores. The design is meant to recall architect Frank Lloyd Wright's Prairie Style homes.
No announcement has been made as to when the new store will open its doors, but we should hear something soon, as the project appears to be nearing completion.