Kantar reports Apple's iPhone saw its share of the U.S. smartphone market rise to 34% in calendar Q2 2017, up 4.7 points from the same period last year. However, that wasn't good enough for the #1 spot, as Samsung took the top spot with a 36.2% chunk of the sales pie.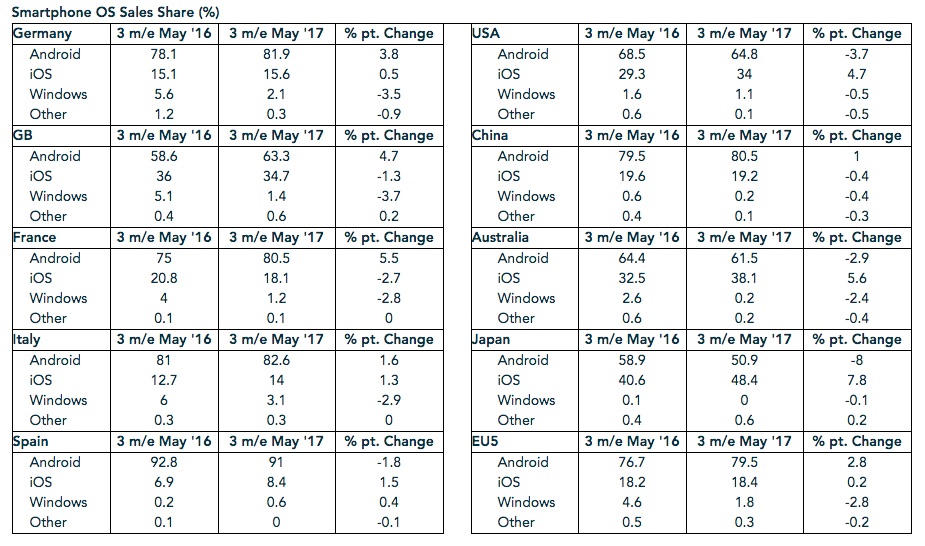 This can be expected, as iPhone sales likely began to wind down late in the quarter as everyone waits for Apple to announce new handsets, to be released later this year. Samsung also launched their latest flagship device, the Galaxy S8. However, the new Samsung handset had less of an effect on the numbers than was expected.
The Galaxy S8 launch helped Samsung regain the top position in the USA, but the bounce from the flagship launch was less than would be expected from a full product redesign.
Apple and Samsung combined to take all of the slots in the top 10 U.S. smartphone best sellers list in Q2. Apple's iPhone 7 and iPhone 7 Plus are #1 and #2 respectively, while Samsung's S7 won the third place slot, with the Korean firm's S8 grabbing fourth place.
Apple's share of smartphone sales was flat in other major international markets, as sales were down 0.4% in urban China, while they inched up in Europe by 0.2%.
(Via 9to5Mac)