Apple released the latest beta of its iOS 11 mobile operating system on Monday, and the new release brings some tweaks to some of the iPhone and iPad's most used apps.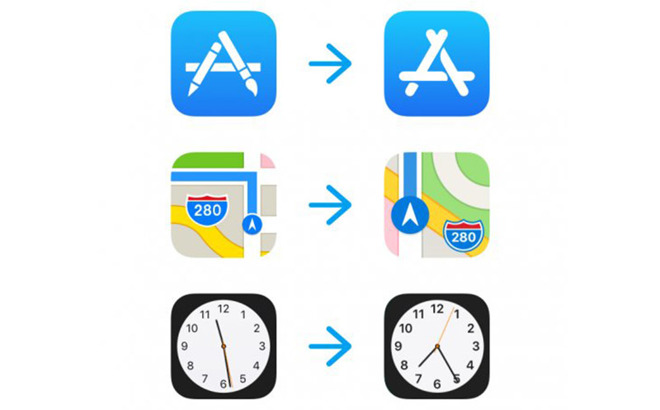 As seen above in a comparison of old and new iOS icons collected by iCulture (via AppleInsider), the Maps, App Store, and Clock apps all received refreshed icons.
The new Maps icon shows the vehicle position indicator passing over Interstate 280 as it heads north on Wolfe Road past Apple's new Apple Park corporate headquarters. A portion of the giant "Spaceship" main building can be seen in the icon.
Apple also updated the App Store icon, marking the first time since 2008 that the main components of the icon have been changed. In place of the traditional pencil, paintbrush, and ruler, three overlapping lines boasting rounded ends are now in place. To my eye the lines resemble breadsticks, but maybe that's just because I haven't had breakfast yet.
Last but not least, the Clock app icon offers up bolder numbers, fashioned using Apple's San Francisco font.
Apple released the sixth beta of iOS 11 on Monday. Apple's upcoming new mobile operating system offers a new Control Center, better 3D Touch support, person-to-person Apple Pay payments, and more. The new OS is expected to be released in September, following the debut of the new iPhones.