You may have noticed that we always note when a new version of the developer-focused "Safari Technology Preview" is ready for download. What is Safari Technology Preview, why would you want to install it, How do you install it, and does it replace your current Safari browser app?
While Safari Technology Preview is aimed at developers and advanced Mac users who would like to get an early look at upcoming features that will be available in future public build of Safari, anyone can download the Technology preview and try it out. Plus, it doesn't replace your current version of Safari, instead it operates alongside your current installation, and both can be used. It's even easy to tell the difference between the two versions.
How To Download and Use the Safari Technology Preview on Your Mac
While Safari Technology Preview is intended for developer use, you don't need a developer account to download the preview version. Here's how to install it.
1.) Go to the Safari Developer download page.
2.) Find the "Safari Technology Preview" section on the page.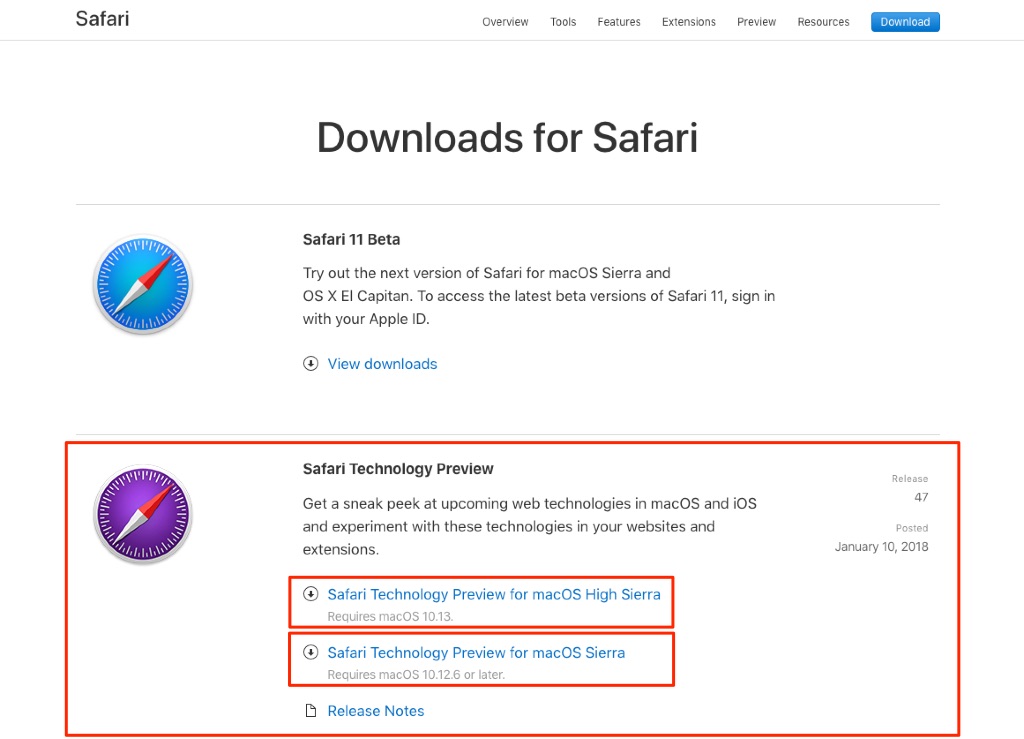 3.) Click the correct download link for the version compatible with your macOS installation. (Versions are available for macOS Sierra and macOS High Sierra.)
4.) Once the disk image ( .dmg) file has downloaded to your Mac, mount the disk image by double-clicking on it, and run the installer for the Safari Technology Preview.
5.) Once the installer has finished, look for the Technology Preview version of Safari in the Applications folder.
The Safari Technology Preview is easy to identify, as the icon for it is purple, as shown here.
You can run both the release and Technology Preview versions of Safari alongside each other with no issues.
When a new version of the Safari Technology Preview is available, you can update is just as you do your release version, via the "Update" tab in the Mac App Store. Apple updates the Technology Preview on a regular basis. Be sure to keep an eye out for news about updates, right here at MacTrast.
For more tips and tricks on how to make better use of your Mac, iPhone, iPad, iPod touch, Apple Watch, or Apple TV, be sure to visit the "How To" section of our website.