Valve has released their new Steam Chat app for iOS and Android devices. The app brings several features of the desktop version of the Steam Chat client to mobile devices.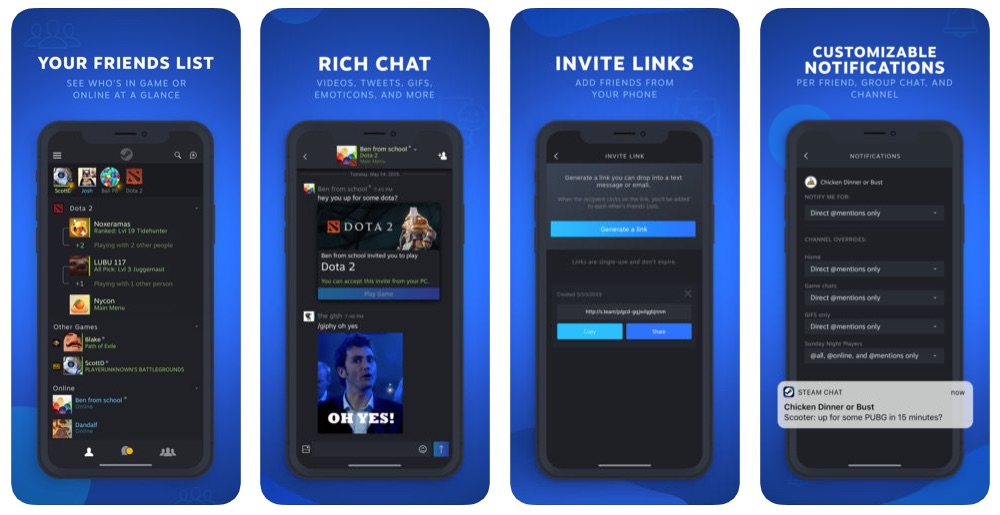 Steam users will not be able to view which of their friends are in a game or online with just a glance. They will be able to participate in online chats, send invite links, customize notifications, and include video, tweets, and GIFs in chat threads.
Take your Steam friends, groups, and conversations with you wherever you go.

The Steam Chat app includes many key features of the desktop Steam client chat, including:

Friends List – See who's in game or online at a glance. You'll see your custom categories and favorites bar just like you can on your PC. (repeated above)

Rich Chat – Your chats get even better with higher fidelity links, videos, tweets, GIFs, Giphy, Steam emoticons, and more.

Invite Links – Add new friends on Steam with a link. Generate an invite link you can text or email.

Customizable Notifications – Mobile notifications mean you'll never miss a message or game invite. You can customize your notifications per friend, group chat, and chat channel.

Group Chats – Get everyone on the same page. Groups make it easier to do things like stay in touch with your communities and organize game night with your best friends.
The new app comes slightly less than a week after the release of the much-anticipated and much-delayed Steam Link app, which allows iPhone, iPad, and Apple TV users to play Steam games by streaming the games from the players PC or Mac.
Valve had originally announced the Steam Link app in May 2018 and the app was expected to launch soon after. However, Apple rejected the app, citing "business conflicts."
While Valve argued that the Steam Link app was similar to other remote desktop-based apps already available in the App Store that provided remote access to a PC or Mac. Apple refused to give ground however, and things were at an impasse, until last week.
Steam Chat is free and is available for iOS devices in the App Store. [GET IT HERE] It is also available for Android devices in the Google Play Store.