A new benchmark score logged with Primate Labs' online Geekbench 4 tool indicates Apple's upcoming iPhone XR successor will be equipped with a six-core ARM processor that boasts 4GB of RAM.
The scores – for a so-called "iPhone12,1" that appears to be running the iOS 13.1 beta – surfaced on the Geekbench Browser on Monday. While not officially confirmed, those numbers appear to be from Apple's upcoming successor for the current iPhone XR handset.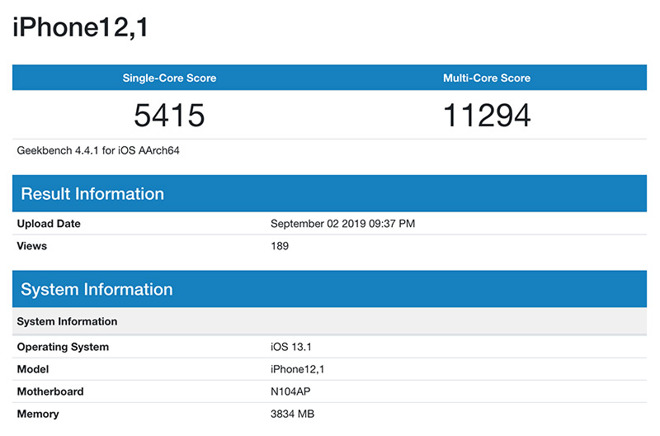 As noted by AppleInsider, the device's motherboard is identified as "N104AP," the same numbering scheme Apple allegedly uses internally in reference to its updated iPhone XR handset.
The results show a 2.66 GHz "ARM" hexa-core system-on-chip with 4GB of memory. Those specs are similar to the current A12 Bionic silicon used in iPhone XR, XS and XS Max, but boasting more base RAM and a faster processor clock speed.The current iPhone XR is powered by a 2.49 GHz A12 Bionic with 3GB of RAM, the XS and XS Max both have an extra gigabyte of memory.
The result show a higher single-core score of 5415, likely due to the processors higher amount of RAM. A multi-core score of 11294 is on the same level as the current iPhone XS and iPhone XS Max devices.
As is usual for pre-release Geekbench benchmarks like this, it should be noted that data fields can be falsified in benchmark reports, so keep your salt shaker at hand.