Among the many anticipated Thunderbolt-enabled storage devices announced when Apple unveiled the 2011 MacBook Pro, the Lacie Little Big Disk will soon be making its debut at the Apple Retail Store.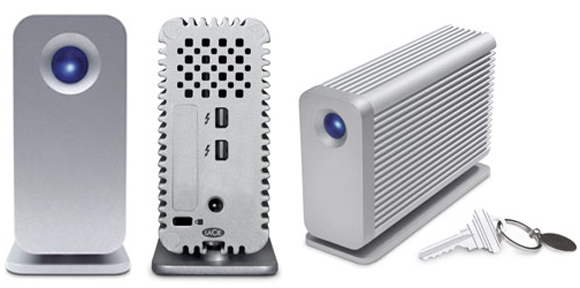 Announced back in February, 9to5Mac reports that the new devices are already arriving at Apple Stores in both the US and internationally, and will be available in both SSD and HDD configurations. Lacie's new drive carries two Thunderbolt ports, and can be daisy-chained with other Thunderbolt accessories. The drives start at $400 for 1TB of HDD storage.
The devices haven't yet been released, but an official announcement from LaCie is expected within the next couple of days, confirming pricing and availability. You can find out more about the new drives over at Lacie's Little Big Disk product page.
Update: The Little Bit Disk is now listed at the Apple Online Store at $399.95 for a 1TB version, and $499.95 for a 2TB version. SSD versions remain to be seen, and LaCie seems to have removed their product page for the moment being, likely updating it to reflect that these are now for sale.