According to iOS version stats collected by iOS developer David Smith (via MacRumors), iOS 5.1 has already achieved over 60% adoption among users of his apps – including users of older versions of iOS, such as iOS 3 and iOS 4.
Smith has been tracking how quickly iOS users have been updating to the latest firmware, and although his results don't necessarily represent Apple's entire user base, Smith does get around 100,000 weekly downloads to his app. With that amount of data, it's likely that Smith's observations line up fairly well with the big picture of all iOS users.\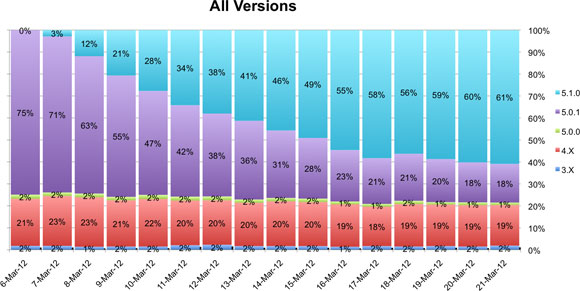 Smith initially suspected that Apple's new over-the-air update feature would cause iOS 5.1 to be adopted much more quickly than previous versions of iOS. His suspicion was conformed, finding that 77% of all users eligible for over the air updates have move on to iOS 5.1, compared to 61% of iOS users in total.
With 61% adoption in just 15 days, iOS 5 marks the fastest upgrade rate of any version of iOS. The latest version of Android, on the other hand (Ice Cream Sandwich) is only at a measly 1.6% after 5 months, although this is likely due to manufacturers not supporting the update on their hardware.