The iPhone 4, 4S, and the new iPad may be the first devices to sport an ultra high resolution Retina display, but they certainly won't be the last. Apple has set a serious standard for display resolution, and according to Intel, the PC industry is likely to leap on board by 2013.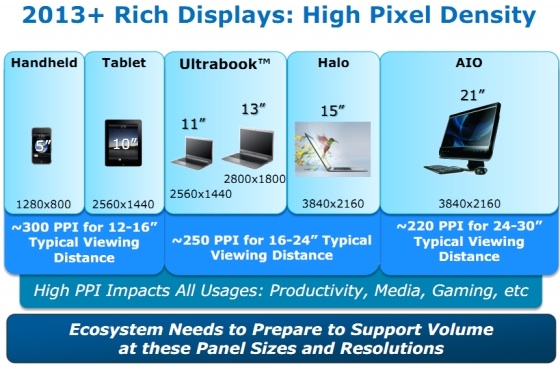 At the recent Intel Developer Forum, Intel VP Kirk Skaugen commented that Intel's upcoming Ivy Bridge processors will support high density displays such as those used by Apple – something which he thinks will drive the PC industry to quickly match Apple's trend.
In particular, here's what Intel thinks is likely to happen to displays moving forward (via MacRumors):
5 inch smartphones and portable device will sport 1280 x 800 pixel displays
10 inch tablets will sport 2560 x 1440 pixel displays
11 inch ultrabooks will sport 2560 x 1440 pixel displays
15 inch laptops will sport 3840 x 2160 pixel displays
All-in-one desktops will sport 3840 x 2160 pixel displays
This suggests that devices such as smartphones and tablets will feature resolutions around 300DPI, with notebooks following at around 250DPI, and full-size all-in-one machines like the iMac around 220DPI. This would make each of those devices a Retina display when viewed at the appropriate distances.
Of course, Skugen's usage of the term "Retina," which is a marketing term coined by Apple, may reference that such displays could arrive in Macs very soon. It's also worth noting that Apple is actively working to prepare OS X for Retina displays, with OS X Lion showing signs of Hi-DPI Mode, and Windows is not far behind.
So will 2013 be the year of the Retina display? And how many manufacturers will fork over the cash for the rights to use Apple's marketing term? Hang on tight – I've got the feeling we'll be finding out sooner rather than later.