If you're one of the few (zillion) people who saw the 1994 film "Forrest Gump" you may remember a scene where Forrest opens a letter of thanks from Apple after Gump's commanding officer and business partner Lieutenant Dan invested some of the Bubba Gump Shrimp Company profits in "some kind of fruit company."
FancyDressCostumes.co.uk, via Cult of Mac:
If Gump was real and if he was still clinging on to his investment today, he could have a staggering 12 million shares in the Cupertino company, worth around $7 billion.
That's a nice piece of change. Forrest would've had to mow a lot of football fields to make that kind of money. But how did FancyDressCostumes come up with that figure? Let's look.
How much Dan invested in Apple isn't mentioned in the movie, so a "notional" amount of $100,000 was used for calculations. In the timeframe in the movie (the 1970s), that would have been about a 3% stake in Apple.
FancyDressCostumes: "By 1980, that stake roughly translated into 1,476,460 shares, which would have been worth $43 million at the end of the stock's first day of trading. When the Forrest Gump novel made its debut in 1986, that figure would have reached $46 million, and would have ballooned again to $91.5 million by the time the film was released in 1994."
Good chunk of change, eh? But that is nothing compared to what Forrest's shares would be worth today. (Assuming Forrest and Lt. Dan just left everything alone, and neither sold his shares nor purchased any additional shares. We're pretty sure Forrest wouldn't have know how to do a stock sale, and Lt. Dan proved he could ride out a storm.)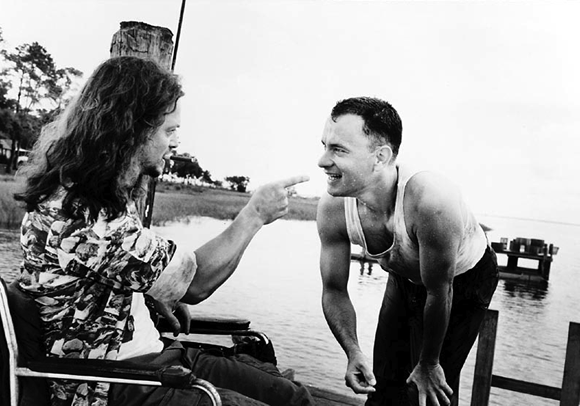 With two more stock splits in 2000 and 2005, Forrest & Lieutenant Dan's holdings now stand at 11,811,680 shares. As of the writing of the FancyDressCostumes post, on 2nd July 2012, Apple was trading at $591. That means their initial investment of $100,000 back in 1978 would be worth: $6,980,702,880.
Not bad for a little investment in "some kind of a fruit company."