Just like Buddy the elf stumbling upon the worlds' best cup of coffee, you too can expertly find an excellent cup of Joe around New York from the ease of your iPhone. The crowded streets of the Big Apple are full of coffee shops, large and small, and finding a good one may be a challenge. Thanks to New York: Coffee Guide, the stress of locating that holiday spiced latte may be a little easier.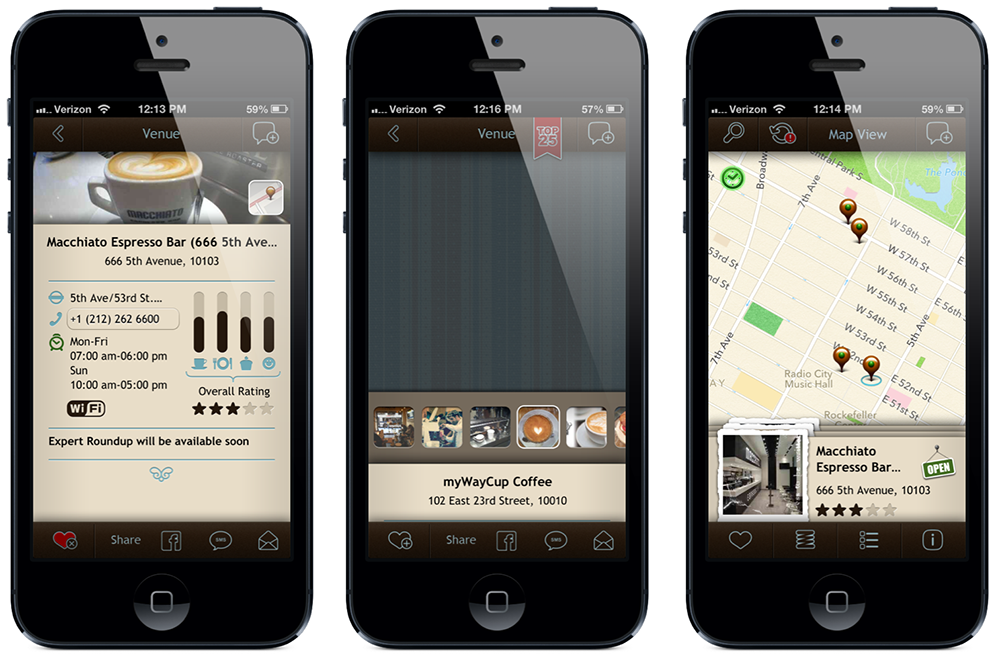 User Interface and Function
The Coffee Guide for iPhone is full of Beautiful Pixels, in the truest sense of the expression. It is rare to come across apps that are well-built and shine in the beauty category. However, apps cannot live-and-die on looks alone. While this app looks great, the function is very helpful as well.
Utilizing a mapping interface as the launch screen, the app drops pins across Manhattan, marking the known shops. The pins are either green or red, indicating open or closed, respectively. To declutter the selection, tap the clock in the top left hand corner to eliminate any shops that are not open.
Tapping multiple pins compiles a stack of info cards, complete with a picture, at the bottom of the map. Collect as many cards as you wish and compare them in list form with their name, open/closed status, 5-star rating, and top 25 ranking.
Opening a venue card will display an image gallery, address, actionable phone number, hours of operation, user rankings, and an expert opinion, typically reserved for top 25 shops. Personally, I'm a big fan of the image gallery that is located at the top of each venue card. Get a full image by pulling down the card info to review the image gallery. I did encounter a little trouble here, however. If the gallery has more than three images, it will not allow the user to swipe past the third image, without tapping the thumbnail to switch images. Additionally, there were a couple instances where the image gallery completely disappeared, which happened on cards with Expert Roundups.
Once you find the shop you want to share, use the sharing feature to post to Facebook, text your friends, or email the information to your friends. Finally, leave your own feedback with the comment system.
Conclusion [rating: 4/5]
Overall, New York: Coffee Guide is a great free app (download link) for the java fiend. If you find yourself running around the city streets looking for a great new shop, this is a fun discovery app. Most importantly, the search feature will search based on shop name, address, districts, or even nearby subway stops. There are a few bugs that need to get worked out with the image gallery, but other than that, it seems to be a solid app.
Pros:
See all coffee shops on one map
Open/closed times
Searchable map, even with subway station proximity
Looks great!
Cons:
Image gallery has a few malfunctions