Chipworks, which shares a teardown fetish with iFixit, has torn apart an iPhone 7, and has offered up a closer look at the chips and such that are on the device's logic board.
The chip receiving the most examination love, is the A10 Fusion chip, which is the heart of the new iPhone 7 and iPhone 7 Plus handsets. The chip, fabricated by Taiwanese chipmaker TSMC, has a die size of 125 square millimeters, and is "incredibly thin," due in part to the InFO packaging technique used by TSMC, which proved to be a major factor in TSMC winning an exclusive contract to manufacture the A10 Fusion.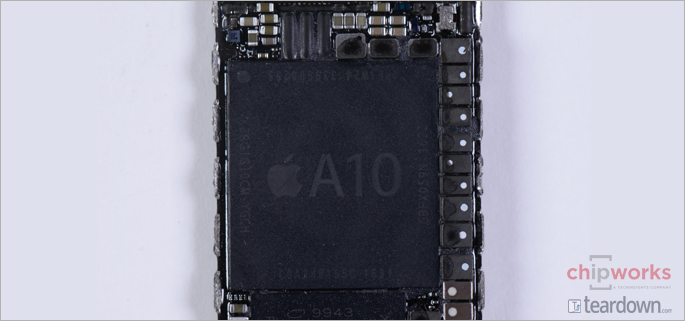 The new iPhone includes 2GB of Samsung K3RG1G10CM LPDDR4 memory, (compared to the iPhone 7 Plus and its 3GB of RAM, needed to deal with the dual lense camera on the Plus).
The cellular modem is an Intel XMM7360, paired with two SMARTi 5 RF transceiver chips and a power management chip, also from Intel. Apple is producing two models of both the 7 and 7 Plus, one of which is made for AT&T and T-Mobile users which does not include support for CDMA networks. The Qualcomm chips in Verizon and Sprint models can support both CDMA and GSM models.
The back-facing camera in the iPhone 7 is a single lens 12MP affair, lacking the extra lens of it's bigger brother. The front-facing shooter is the same improved FaceTime HD shooter as seen in the Plus.
For more details of the Chipworks iPhone 7 teardown, visit the Chipworks website.