The long-promised Apple Pay Cash system will make its public debut in iOS 11.2 and watchOS 4.2. As of the release of the new iOS 11.2 beta, beta testers have access to the new feature.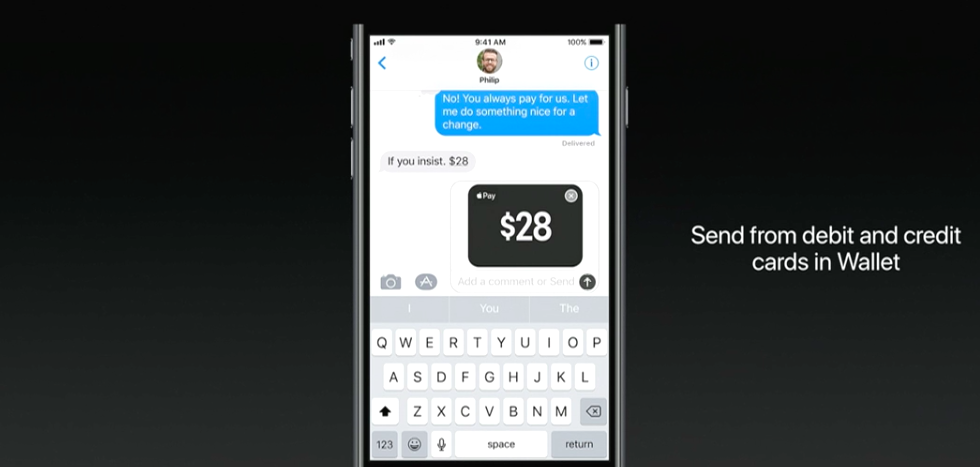 Apple Pay Cash is included in the new iOS 11.2 public beta that is being provided to public beta testers this morning. Some developers running iOS 11.2 are also seeing Apple Pay Cash appear as an option in the Messages app this morning. 
Apple employees have been conducting internal testing of the feature since early October. The test was originally limited to corporate employees, but the testing was later expanded to allow retail employees to join in the fun.
Apple Pay Cash allows Messages app users to do quick person-to-person money transfers using Apple Pay via iMessage transactions via their iPhone or Apple Watch.
Cash is sent from a linked credit or debit card. Received cash is stored in an Apple Pay Cash card in the Wallet, and can either be used to make purchases or can be sent to the user's bank account. Sending cash via credit card is subject to a 3% fee, while sending cash via debit card is free.
Users looking to try out Apple Pay Cash will both need to be running the current iOS 11.2 beta on an iPhone 6 or later. Users must load a minimum of $10 onto the Apple Pay Cash card in Wallet, and have two-factor authentication turned on. Use of the feature is currently limited to users in the United States.