Zagg on Tuesday announced the debut of two new keyboard cases for Apple's iPad lineup of tablets. The two new keyboards, the Nomad Book and Messenger Folio, both offer storage for the Apple Pencil.
The Nomad Book is a clamshell-style keyboard case which has a modular design that allows it to be used with the 10.5- and 9.7-inch iPad Pro, the fifth and sixth generation iPad, and iPad Air and Air 2.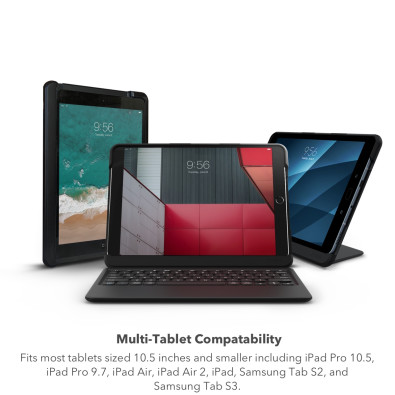 The keyboard features backlit keys, the ability to pair with multiple devices, and a place to store your Apple Pencil.
Get a Sure Fit – In order to be productive and comfortable working away from your desk, you need a keyboard and case that are a sure-fit for your tablet.. The adjustable Nomad Book can be customized to fit your device. In addition to the custom-fit bumpers, a slim metal plate attaches to the back of your tablet and magnetically attaches to the inside of the Nomad case to hold your tablet securely inside the case.
Laptop-Style Keys – The ability to take your device anywhere doesn't mean much if you can't work comfortably when you get there. Nomad Book's spacious laptop-style keys make typing easy. And the rounded, concave keys actually prevent typing errors by minimizing the chances of accidentally hitting an adjacent key.
Multi-Device Pairing – Coordinate your life by connecting your tablet and another device simultaneously. Nomad Book's multi-pairing capability lets you connect with two devices and toggle back and forth between them.
Adapts to Meet Your Needs – The Nomad Book case detaches from the keyboard which allows you to place your device on one surface and still type with the keyboard on another. The detachable case also lets you function in four modes: book, keyboard, case, and video. The adjustable cradle hinge holds your tablet securely at multiple viewing angles.
Reliable Protection – Wherever your adventures take you, you can travel confidently with your tablet, knowing it's safe and protected. Nomad Book's hard shell and snug, customized fit keep your tablet safe from scrapes and scratches, so you can feel confident putting it in your bag and taking it with you.
Rechargeable Battery – You're not good when you're running on empty, and neither is your keyboard. Nomad Book's rechargeable battery keeps you typing up to two years between charges. The sleep-wake function helps preserve battery life when the keyboard is not in use.
The Nomad Book's Price: $99.
The other new iPad case from Zagg is the Messenger Folio for the 10.5-inch iPad Pro. The basic keyboard solution lacks a backlit keyboard, has two viewing angles, and includes an Apple Pencil holder.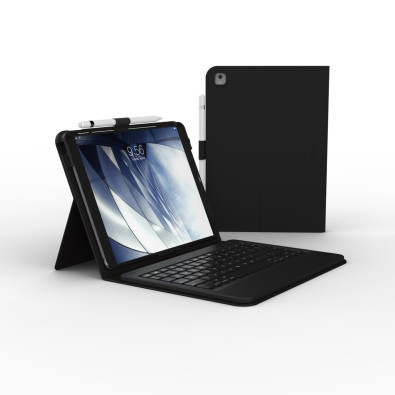 Protective, Fabric Wrap Case – The attractive, fabric-wrapped Messenger Folio case makes it easy to transport your tablet and protects it from dings, scratches, and the contents of your bag.
Bluetooth Pairing – The Messenger Folio pairs instantly with your device and stays connected so you don't have to pair your keyboard each time you log on.
Laptop-style Keys – Our laptop-style keys give you a natural typing experience which means you don't have to endure hunting and pecking on limited screen space.
Built-in Tab for Apple Pencil – Now you can store your Apple Pencil safely when it's not in use, and keep it close by for when inspiration strikes.
Dual Viewing Angles – Whether you're hard at work or taking a well-deserved break, the built-in stand on the Messenger Folio secures your device at two ideal viewing angles.
Magnetic Closure – Messenger Folio's magnetic closure provides additional protection for your device and holds the case securely closed until you're ready to use it again.
The Messenger Folio will run you $59.