Apple Music fell from the top spot to No. 5 in MBLM's 2019 brand intimacy study getting bested by Spotify, Pandora, and others.
Pinterest topped MBLM's Brand Intimacy 2019 Study, which is the largest study of brands based on emotions, the social network rose two spots since last year's rankings. Spotify and Pandora followed, with Instagram and Pandora filling out the top five.
The remaining brands in the apps & social platforms industry Top 10 were Facebook, Snapchat, Uber, Airbnb and Venmo.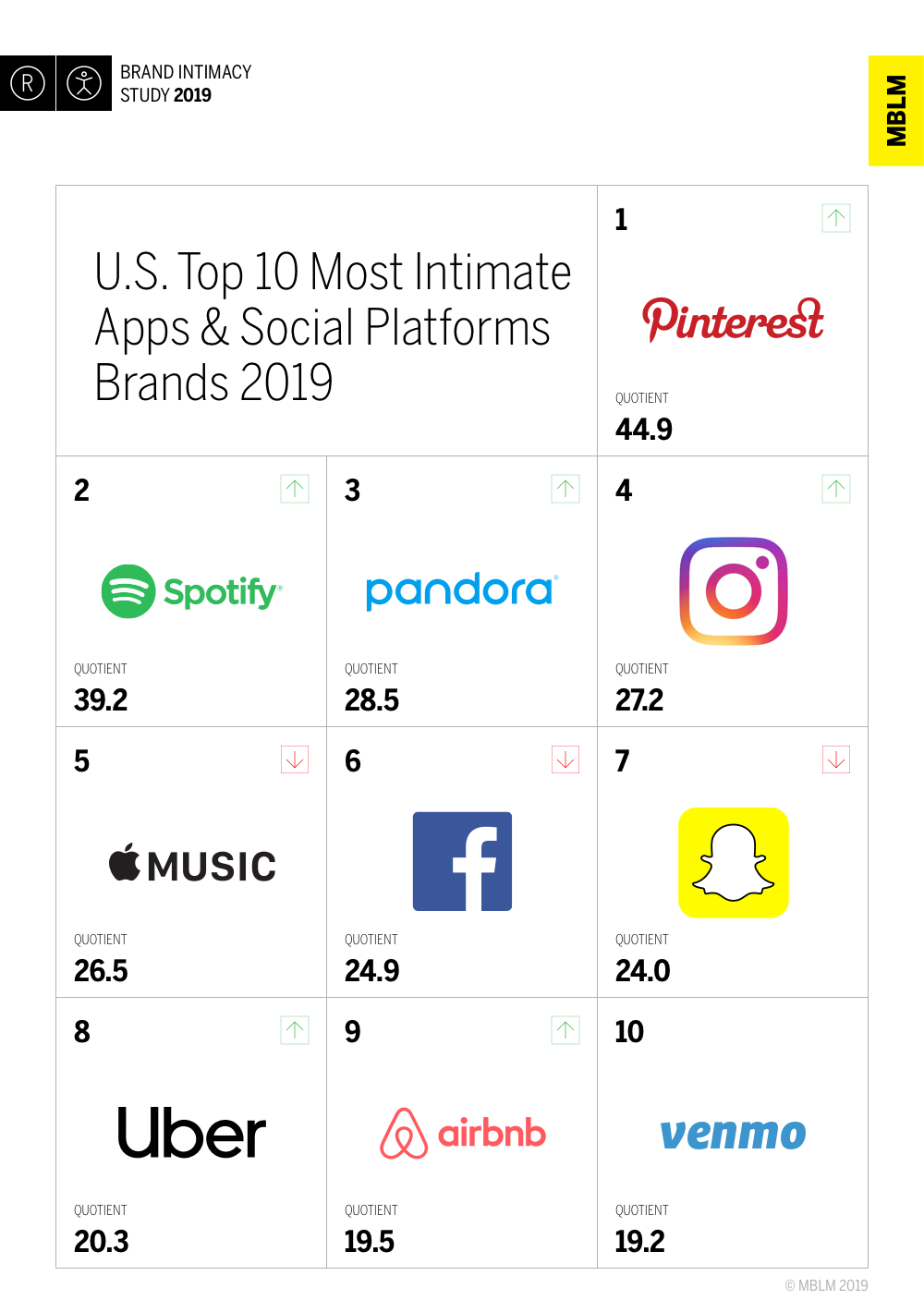 MBLM says Brand Intimacy is defined as the emotional science that measures the bonds we form with the brands we use and love.
"Although a ubiquitous part of our daily routine, apps & social platform brands continued to underperform in our 2019 study," said MBLM's managing partner Mario Natarelli. "These brands are perceived as free utilities. They rank lowest in the smartphone ecosystem and now trust is emerging as a key challenge as these brands try to mature. However, strong performers such as Pinterest are creating powerful bonds – especially with women."
Top intimate brands outperformed the top brands in the Fortune 500 and S&P indices in both revenue and profit over the past 10 years, according to the Brand Intimacy 2019 Study. The average revenue growth from 2008-2017 was 8.68% for the top 10 most intimate brands, compared to 3.66% for Fortune 500 top brands and 4.75% for top S&P companies.
Other significant apps & social platforms industry findings include:
The category increased its average Brand Intimacy Quotient from 18.0 in last year's study to 25.4 in 2019
Pinterest doubled its score of 22.0 in 2018 to 44.9 this year
Last year's leader, Apple Music, fell to the #5 position
Pinterest was the #1 brand for women
Spotify was the #1 brand for men
Pinterest was also the #1 brand for millennials, users over 35, users with incomes under $75,000, and those with higher incomes
The Brand Intimacy 2019 Study analyzes the responses of 6,200 consumers and 56,000 brand evaluations across 15 industries in the U.S., Mexico and UAE.